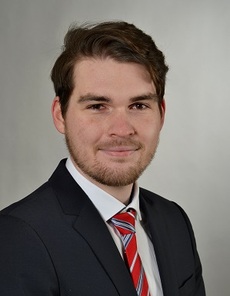 M.Sc. Fabian Silbereis
Group:

Forschungsgruppe Hoang

Office Hours:

Only by appointment (prior request via e-mail required)

mondays, 4:00 - 6:00 pm

Room:

238 (2nd floor, left corridor)

Phone:

+49 721 608-46032

fabian silbereis∂ kit edu
Research Interests
Empirical Corporate Finance
Intersection of Finance and Accounting
Corporate Risk Management
Cash Policy and Liquidity Management
Education
2018 - today: Karlsruhe Institute of Technology (KIT), PhD Candidate in Finance
2016 - 2018: Karlsruhe Institute of Technology (KIT), M.Sc. in Industrial Engineering and Management
2012 - 2016: Karlsruhe Institute of Technology (KIT), B.Sc. in Industrial Engineering and Management
Work Experience
2018 - today: Karlsruhe Institute of Technology (KIT), Research Fellow
2017: Voith Group Heidenheim, Intern in Corporate Strategy
2016 - 2017: EnBW Energie Baden-Württemberg Karlsruhe, Intern in Risk Management
2015 - 2016: Robert Bosch GmbH Hatvan (Hungary), Intern in Management Accounting
2014: Robert Bosch GmbH Reutlingen, Intern in Management Accounting
Teaching
Corporate Risk Management (Discussion Session) – since 2018
Supervisor of Bachelor's and Master's Seminar Papers
Supervisor of Bachelor's and Master's Theses
Bachelor and Master Theses
Available Topics: Our chair offers many exciting thesis topics for your Bachelor's or Master's degree. You can find a list of currently available topics here.
Get in Touch: If your interest is in working on a topic offered by me, please do not hesitate to contact me well in advance. My interest is that you make the most of your thesis.
Industry Cooperations and Own Topics: If you plan to cooperate with industry partners or have an own topic in mind, I am happy to supervise if the topic relates to my research areas.
Application Procedure: The application procedure is described here.